• Payments at my studio gallery
• Phone
• Email
• Viewing my art at my studio
• Map of location of Tony Max Art studio
• Expected delivery times
• How big will the images look on my walls?
• Print purchasing details
• Shipping fees when ordering through my studio gallery
• Shipping fees when ordering through art resellers
• Cheque payment name and address
• Business status
• Professional memberships
• Initial quotes are subject to change
• Replacement of certificates of authenticity/biographies
• Tax breaks for corporations



Payments by cheque or cash
Note that if you visit my studio gallery and decide while you're here to order or buy a print, I can accept Paypal payments if you have a Paypal account and Interac (wire transfer).



For customers outside of Canada and the U. S., please email for information.



Top
Phone
Top
To write to me to inquire about prints or paintings, click on the Tony Max logo below.

Comments, suggestions and questions are also welcome.


Top
I welcome customers to view my art at my home studio. Phone 604-985-4262 for an appointment.

The address is:
Tony Max Art
144-20 Street West
Suite 310
North Vancouver
British Columbia
Canada
V7M 1Y4



Top
Map of the location of my studio
Top
Expected delivery times for canvas prints
In Canada:
Usually one to five weeks for canvas prints. If you're in a hurry, I can often hasten print production when asked to do so.


Making giclees (high-end, fine art inkjet prints) is a laborious process.


Normally I print prints in batches to increase efficiency. I normally print a batch of prints about every three weeks – waiting each time till I get enough print orders to make it worthwhile to print. The printer's nozzles need to be checked for clogging before each printing, and the nozzles need to be unclogged if they're clogged, which requires extra time and ink used for the cleaning cycles. This makes it inefficient to print only one or two prints at time.


The same applies to varnishing. There's a considerable amount of preparation for varnishing and clean-up after varnishing, so it's inefficient to set up my studio and clean up just for one print or a few prints.

I also normally order stretcher bars in batches, also to increase efficiency and to take get free shipping from my stretcher bar manufacturer. I supply stretched canvas prints for local galleries in Vancouver, as well as for customers who come to my studio here to pick up orders.


It's because of these efficient processes that I'm able to pass on my savings to my customers and have the low prices that I have. By being efficient with production, I'm also able to produce more art, which also pleases my customers, as it increases the variety of art images that I have available for viewing and sale.


If you're in a hurry for a print order, contact me to find out where in my production cycle I am, and if I can expedite your order.



Top
How big will the images look on my walls?

It can be difficult to estimate how big or small particular pictures will look for your walls, so I've provided some example photos of my prints of differing sizes hanging on walls.


"Quadra Island" – 21 by 56 inches. (One and three-quarters feet high by four and two-thirds feet long).



"Kits – Backlit Trees" – 21 by 25 inches.


Top
Are you looking for a particular print but don't know where to find it and you want to see it before buying it? You can:

• Email by clicking on the Tony Max logo directly above to find out if I can recommend a gallery or galleries that have the print(s) in stock that you're interested in.

• Phone (604) 985-4262 to arrange for an appointment with me at my studio in North Vancouver (see map).

• If you don't want to use the online Paypal "shopping cart" system (which includes Visa, Mastercard, American Express, Discover and debit) you can pay by cheque or cash.

• If there's no Paypal button on the Web site for the print(s) you want to buy, you can phone or email me to ask me to make and add aPaypal button to the Web site.

• I don't accept credit card and debit card payments at my studio.

* If you're in or near Vancouver and don't want to use the the above methods and know what print(s) you want, you can call the nearest Tony Max art dealer to order the print to be shipped by me to the gallery.


Usually the dealers want a commitment that you will buy the art that is out of stock before they'll order it to be shipped to the gallery, as most dealers don't want to carry a lot of inventory. However, this varies from dealer to dealer, and the number of Tony Max prints in stock at the galleries varies. Some galleries don't have any prints in stock, but the staff may be willing to order them for you if you commit to buying particular prints. Here is the list of Tony Max art dealers representing my art.


(As I publish more print editions, it's becoming increasingly difficult for the art dealers to keep a large assortment of the prints in stock. There are about 230 editions available on this Web site – almost all of them in five or more sizes for each image, and I'm publishing more print editions all the time.)


For shipments to areas outside of southwestern British Columbia and countries other than Canada, please email regarding shipping charges.


I ship my unstretched canvas prints rolled in a mailing tube.


I don't sell my pictures framed, because I'm an artist – not a picture framer. For framing of my art, you can take my art to a picture framer.



Top
Shipping Fees when ordering from me
Shipping costs vary, depending on the size of the order, destination and whether the prints are on canvas or paper. I ship canvas prints rolled.

If you don't want to pay for shipping, you can come to my studio in North Vancouver to pick up your order.
Top
Shipping Costs when ordering prints through the other art galleries.
If you order prints through one of my art resellers (art galleries), I will charge a shipping or delivery fee for me to ship or deliver the print to the gallery. See this page for more information on ordering my prints through the art galleries.
Cheque payment name and address
Please make cheques payable to:




Tony Max

or Tony Max Art



The mailing address is:


144-20 Street West
Suite 310
North Vancouver, British Columbia
Canada
V7M 1Y4




Top
Business Status
Tony Max Art is a sole proprietorship, which has been registered since 1995 with the

British Columbia Ministry of Finance.



Top
Quotes are Subject to Change

My quotes are subject to change.


The longer the time is between a quote being given and a follow-up, the more likely it is that circumstances will change, making it more likely that I will want to change the price of my art.


For example, I have occasionally given painting prices to people when the painting was still at my studio. Sometimes the painting wasn't yet finished and the painting's availability and price hadn't yet been added to this Web site or my catalogue. Obviously, in that case, I may want to charge more for the painting if I feel that I've significantly improved a painting since giving a quote for that piece.


Some people fail to distinguish between a preliminary estimate and the final quote, and don't make an allowance for changing circumstances and/or don't give me sufficient time to finalize the price.


"There is no decision I hate making more than what to price my paintings, and to do it on the spot is a sure recipe for disaster!'" wrote artist Angela Fehr.


Some people expect me to spontaneously come up with prices for his or her paintings in person or during a phone conversation. Then those people become angry if I want to charge higher prices for the paintings than the prices originally quoted.


They expect me to maintain the initial quotes, even though they haven't given me sufficient time to reflect on those quote, and even though I said that the prices given are approximate or rough estimates or tentative. Quoting is a difficult task that requires rumination about all aspects of the job, and the customer should know that the prices given in a preliminary, rough quote may be lower than the prices given in a final quote.


Of course, sometimes final quotes are lower than preliminary quotes, but no one complains in such instances. They only sometimes complain when final quotes are higher than preliminary quotes.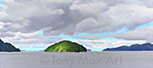 "Moody Light": Paintings with lots of subtleties and smooth blending require more work.


There are many considerations to take into account when determining the price of a painting, so naturally those complex and sometimes conflicting factors need to be carefully weighed before I come up with a firm price. I've come up with a list of factors that influence the price of consigned paintings at galleries. Those factors are:

1) the degree of complexity of the image.
2) the degree of subtle differences among colors. (Paintings with lots of subtleties of similar colors – such as "Moody Light" – require more work.)
3) the degree of smooth blending of colors. (Paintings that have much blending of smooth colors – such as "Moody Light" – require more work.)
4) the size of the painting.
5) how marketable I think the painting is.
6) the cost incurred. (The average cost of materials, scanning and transportation of each painting is about $400.)
7) the commission percentage of the gallery.
8) the amount of money I'm getting for paintings of similar quality at other galleries.
9) the level of sales of the corresponding art prints. (The price of the painting is tied to the level of demand for the corresponding art prints.)
10) the current market conditions.
11) the length of time that the painting has been on the market.
12) the willingness and availability of other galleries to take the painting on consignment.
13) the prices charged for the art of artists of similar stature.



Top
Replacement of Certificates of Authenticity/Biographies
Please mail a $6.72 cheque ($6 plus 72 cents taxes) to replace lost or damaged certificates of authenticity/biographies or to receive an artist biography.
The money helps to defray the costs of postage, handling and printing of the fade-resistant, giclee-quality certificate/biographies and biographies.
Please note that a certificate/biography is already included with every limited edition print that I sell.
Tax Break For Corporations
Purchases of art by Canadian corporations are 100 percent tax deductible.
Introduction