Introduction
Art print
quality assurance


My art prints on canvas are:
• Acid-free

• Fade-resistant

• Fine art

• Limited edition

• Signed and numbered

• Collectors' items

• Small edition sizes

• Available in different sizes

__________________________________________
• Affordable
They are the lowest-priced, high-quality giclees available in Metro Vancouver and southwestern British Columbia.

• Archival
The canvas prints are printed on the fine artists' canvas and are fade-resistant.

I use stainless steel staples to stretch his canvas giclees, even though most other giclee publishers use the rust-prone, regular staples and the stainess steel staples cost two and-a-half times as much as regular staples.



• Easy to hang
I provide hanging apparatus with every stretched print.

• Local
For people in southwestern British Columbia.

• Hand-crafted to a large degree
Although they are printed with the use of a printer, they involve a tremendous amount of my hand-crafting and personal input.





My limited edition giclees are printed on archival canvas.


The inks have been scientifically tested with the paper for lightfastness by Wilhelm Imaging Research, the world's leading researcher of archival inkjet lightfastness.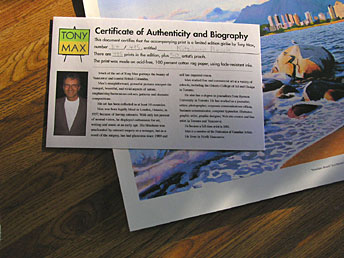 A certificate of authenticity and biography come with every signed and numbered limited edition print.


I sign and number every limited edition print.


I also inspect each print before releasing it, thus ensuring that the print meets my exacting standards.


Every print comes with a combined certificate of authenticity and biography, on which the following are documented:
• the name of the image and

• the size of the image and

• the number of the print in the edition
(for example: 5/300).
Every certificate/biography bears the Tony Max logo.


They are not posters. (Many people mistakenly refer to them as posters.)


They are not photographs. (Many people mistakenly refer to them as photographs.) Photographs are made by exposing a light-sensitive material to light, whereas archival inkjet prints are made by spraying electrically charged particles of ink onto a surface.

• Rare
The small sizes of thelimited editions enhances the prints' value and makes them collectors' items. The prints – whether or not they're limited by having their number artificially capped by – are naturally limited anyway by the relatively small demand for images of Vancouver and southwestern British Columbia, compared to subjects such as nude figures or abstract expressionism, which can be sold around the world because of the greater, overall world interest in such generic images.





Tips for Canvas Stretching


Phone around and ask the picture framers if they're competent and experienced at canvas stretching. Ask if they have samples of the canvases they've stretched for you to look at.

When you get to the frame shop, ask to see those samples.
Ask what kind of wood they use to fashion the stretcher bar sets that the canvas will be streched over. The wood should be good quality wood such as pine or fir, which doesn't warp as much as some other woods. Larger picture should have at least one wooden brace, and for bigger pictures, two or three braces.

The staples should be stainless steel and rust-resistant.

I use stainless steel, rust-resistan tstaples that are one-quarter inch long. A large percentage of picture framers use regular staples that are not stainless steel
nd are not rust-resistant and they don't care that the staples will rust prematurely and stain the canvas that they're close to.

The staples should have tines that are short enough that they can be removed fairly easily.

Normally the sides are covered with black art tape, aslo known as gaffer's tape.

Tell the framer not to cut off (or cover with tape) the type I added to the canvas prints, which appears on the back of the canvas print after the prints has been stretched over wooden stretcher bars. The type has information that pertains to the print – the print's tiltle, size (small, medium, large, etcetera), dimensions, year of copyright, etcetera. Another thing to look for is that the canvas should be as tight as a drum after it's been stretched. If canvas isn't properly stretched, it'll sag – especially at the corners.


.


For those customers who buy my prints unstretched and take them to picture framers, I offer the following tips, because some customers have asked me for advice and I've seen some professional picture framers that do a terrible, sloppy job of stretching canvases.

Introduction